About Wiley Efficient Learning CFA
Wiley's CFA program started as Elan Guides in 2009 under Basit Shajani, where it quickly grew to be associated with quality materials at value-for-money prices. Although well-reviewed and doing well, the fledgling company needed more support and firepower to expand its offering to a complete three-level CFA product. It was at this point that their success caught the eye of mega-publisher John Wiley & Sons.
John Wiley & Sons acquired Elan Guides in January 2014, rebranding it as Wiley Efficient Learning and rapidly expanding their offering to the current three-level CFA suite. Shajani continues to be strongly involved through his current position as Editor-in-Chief for CFA Prep Materials.
One of many other CFA prep providers
Wiley Efficient Learning is just one of many established CFA prep providers that CFA candidates choose. Here are some recommended partner providers that we have reviewed and recommend:
Wiley's CFA study packages
Wiley has a three-tiered study package offering:
Wiley's current CFA offers and deals
We don't have any CFA offers for Wiley at the moment, but we do have offers from other CFA providers. Here are a few – you can view the full list at our Offers page.
Wiley CFA does offer discounts to some specific CFA candidates:
Re-sit discount: If you've previously failed with another provider, you can get 50% off any Wiley CFA course. To claim the discount, just contact Wiley with proof of your CFA exam result and proof of payment to your previous provider.
Student discount: 20% student discount to faculty, actively enrolled full-time and part-time college or university students, or those graduated within 90 days of their order. Apply during checkout, but proof will be needed.
2-week free trial: During your trial, you will get access to sample 20% of content and features including video lectures, online lessons, question bank and mobile app access.
Study and Review Materials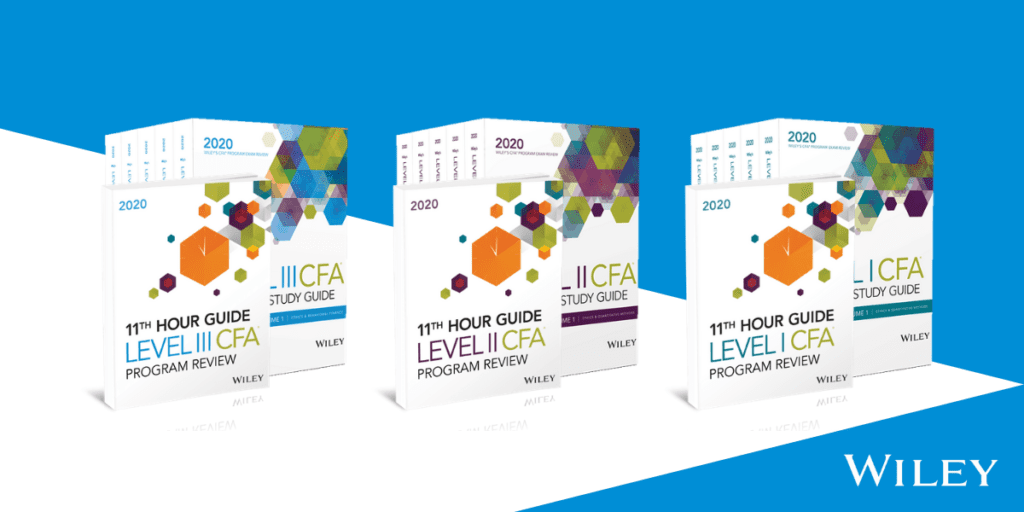 Study Guide: Five volumes of concise notes
Available in five printed volumes or as an ebook, this is Wiley's study notes on the CFA curriculum.
The Wiley Study Guide goes through all the fundamentals, concepts and Learning Outcome Statements (LOS) needed to pass each CFA exam level, so you can use this as your primary source to learn the CFA curriculum.
The format, summaries and reference systems make it more easily digestible than the official CFA curriculum – it's a significant advantage because it allows you to finish your studies sooner and keep you fresh for your practice exams.
Review Notes: 11th Hour Review Guide
The 11th Hour Review is Wiley's one-book final review guide to each CFA exam level, condensing all readings and key formulae to help 'top up' your knowledge as you work through your mock exams.
As this is just one book, it's handy to bring around in the final month and on the actual CFA exam day, if you're keen on doing some last minute reviewing before the morning and afternoon exams.
If you're looking for CFA exam materials, here are our top recommended providers →
Live, Online and Video Lessons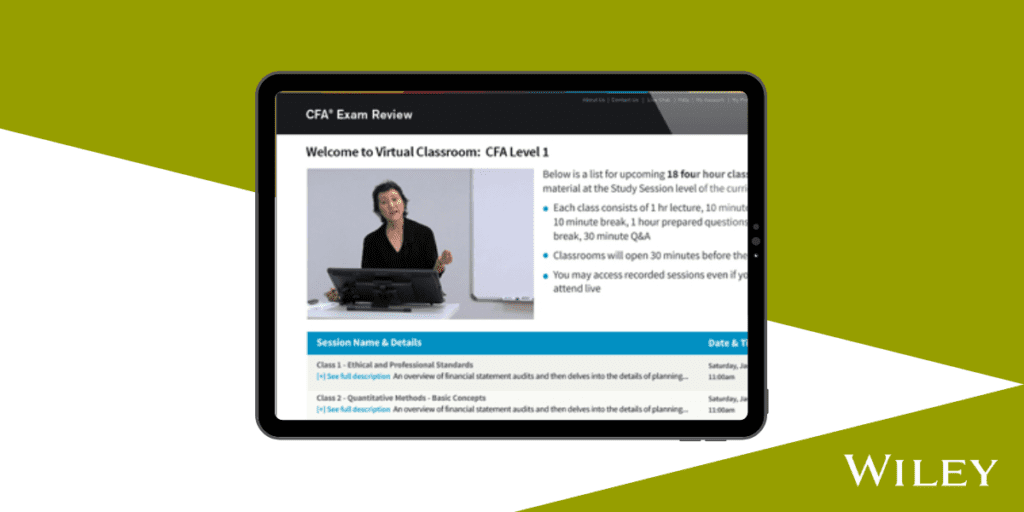 Live online classes
Live Online Virtual Classes is the latest addition to the Wiley CFA product range. It's a set of 16 weekly instructor-led classes lasting about two to three hours and consists of a lecture, worked problems, and a Q&A session.
The class is also recorded so you can catch up on it later if you can't attend the live ones.
Topic-based video lectures
You can also work through the entire curriculum through Wiley's Video Lectures, going through all fundamentals and concepts needed to pass each level.
50-100 hours of video per level are included. In 'bite-sized' lessons spanning 30-45 minutes each, instructors explain the concepts, work through examples, and work in exam tips along the way.
Online mentoring
Wiley also offers something called Online Mentoring, which is basically online CFA instructor support.
If you need something clarified or a question worked through, post it up and you'll get a response in 24 hours or less.
11th Hour Final Review course
Wiley's 11th Hour Final Review Course is their knowledge-booster course, meant to be taken closer to the actual CFA exam day. Unlike Schweser's review courses which are scheduled at certain dates, you can take Wiley's review courses at any time, as the material is already prepared. It consists of:

40 hours of review-focused video lectures
A full-length mock exam and seminar
The 11th Hour Review Study Guide (which we went through in a previous section above)
Formula sheets (downloadable and printable PDFs)
CFA providers with best-rated classes and courses
The quality of CFA instruction can vary a lot. In our candidate ratings, we've rated top CFA exam providers specifically by the quality of their CFA classes. You can check out their individual reviews and ratings here:
Practice Questions and Mock Exams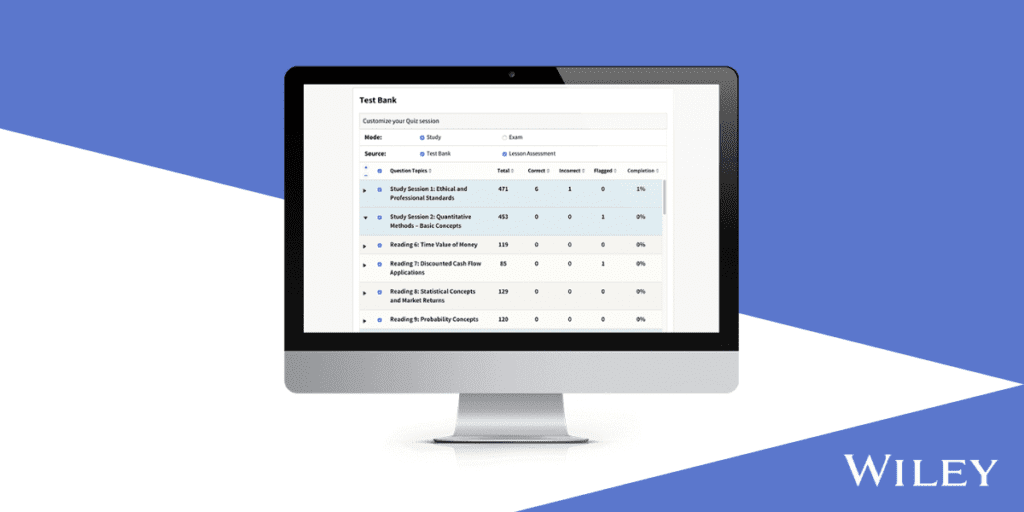 Mock Exams: Up to 3 mock exams available per CFA level
Wiley offers two mock exams for each of their study packages, and an additional 11th Hour mock exam if you purchase the 11th Hour Final Review or Platinum Packages. This means that you can get a maximum of three Wiley mock exams.
For the serious candidate, we think that you should supplement this with additional mock exams – we recommend that candidates complete four or more practice exams for each level. Don't forget that you also will have additional practice questions and mocks from the CFA Institute, which you should definitely complete.
Question Banks: Thousands of practice questions
The Wiley Test Bank has thousands of questions – 4,000+ questions for Level 1 and 1,200+ questions for Level 2 and includes answers and explanations for each. Wiley's Level 3 test bank has 75 constructed response questions.
It also includes a quiz planner that allows you to create customised exams and filter by topic.
The Test Bank is accessed online, so you'll need a laptop and internet to practice.
If you're looking for CFA practice questions, here are our top recommended providers →
Online Platform and Apps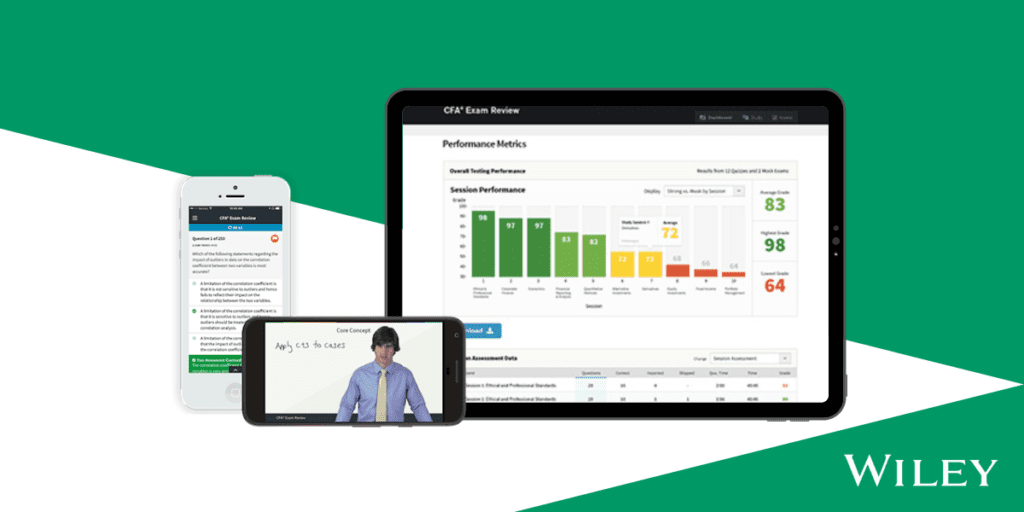 Adaptive planner
Wiley's adaptive planner helps you schedule your CFA studies, helps you stay on time, and is flexible enough to accommodate if your commitments or schedule changes.
Performance dashboard
A significant advantage of online exams and online prep material is that your performance can be automatically calculated, summarised and compared. Wiley's Dashboard and Performance Metrics helps you evaluate your performance, and highlights problem areas where you should focus more attention.
Mobile App
Wiley's mobile app, available through iOS or Android, is included with all study packages. The mobile app includes:
90+ hours of video lectures available to stream or download (50+hours for Level 3)
Thousands of CFA practice questions per level with detailed answers
CFA providers with the best-rated online platforms and apps
Depending on tech implementation, CFA online learning platforms and apps can range from smooth-sailing to utter crap. Most CFA providers with online-centric platforms offer a trial so you can see whether it suits you. If mobile app support is important to you, make sure you check out a provider's app rating before purchasing.
Here are some of our recommended partner providers – you can check out their specific ratings for online platforms and mobile apps:
Other Features: Flashcards, Formula Sheets, Pass Guarantees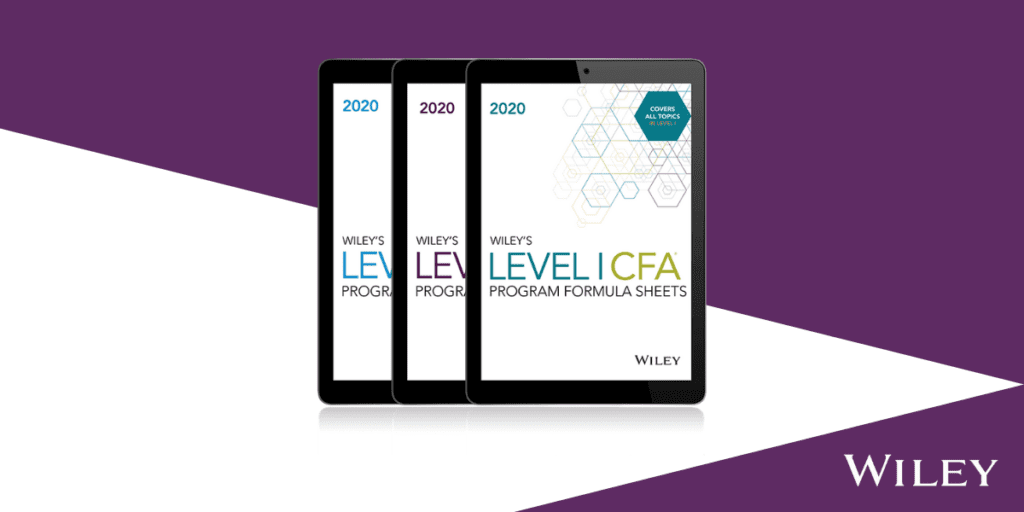 Formula Sheets
For every CFA level, Wiley includes formula sheets: 60+ pages of key mathematical equations and concepts tested on the CFA exam.
The formula sheets are available as a downloadable and printable PDF.
Flashcards
Wiley's flashcard product allows you to build your own deck from a bank of about 800-1,100 flashcards. It's an online-only product though, so no printing out for old-school revision.
You can also flag flashcards to come back to them later, and view your revision history to see if you're covering your topics properly.
Pass Guarantee
Wiley's Pass Guarantee is simple – you can keep access to your course and repeat as needed until you pass, no questions asked.